Most patients will require restorative treatments at some point in their life. Crowns, fillings, and root canals can relieve pain and restore oral health. If you have a cavity, advanced decay, or another serious dental problem, the doctors of Los Lunas Smiles can restore health to your smile using one of several treatment options. Read on to learn about the many benefits of restorative dentistry.
Do I need restorative treatments?
Tooth decay and gum disease are two common dental problems that require restorative treatments. Half of adults over the age of 30 have some degree of gum disease, according to the Centers for Disease Control. Decay can lead to an erosion of the protective outer layer of your tooth. When a small pit forms, you are said to have a cavity. Only professional cavity treatments using fillings can treat tooth decay.
To arrange an examination at Los Lunas Smiles Dentistry to talk about Restorative Treatment, Call at (505)-865-4341 Or Schedule An Appointment Online .
Symptoms of tooth decay include:
The presence of dark spots on your teeth
Heightened sensitivity to hot and cold temperatures
Intermittent or continual oral pain
Discomfort when eating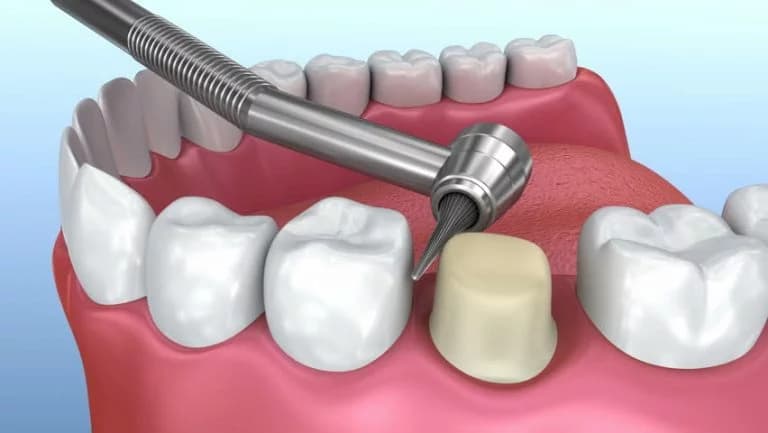 If your tooth is damaged due to advanced decay, trauma, or another reason, you may require the restorative placement of a dental crown to encase your tooth in a protective layer of ceramic material.
An advanced infection that reaches the inner portion of your tooth may require root canal therapy or an extraction. Once the bacterial invasion reaches the sensitive bundle of tissue and nerves within your tooth, serious complications can develop. Root canal therapy relieves pain and allows you to retain your natural tooth.
Symptoms of a root canal infection include:
Oral pain (often severe)
Swelling of nearby gum tissue
Discoloration of the tooth
Heightened tooth sensitivity
What are my restorative options?
Our office offers advanced technology like digital x-rays to accurately diagnose your symptoms. Your customized treatment may include:
Crowns: Crowns are customized restorations that completely encase a tooth in a protective cap, typically made of ceramic or another durable material. To place a crown, the outer layer of your tooth will need to be removed. This process is completed under local anesthesia and possibly sedation.
Fillings: Fillings replace lost tooth structure following a restorative treatment. If you are about to undergo treatment for a cavity, one of our doctors can use tooth-colored fillings to fill the treated cavity. Fillings prevent the return of decay.
Root canals: Root canals address infections that have reached the inner portion of a tooth. Our doctors have many years of experiencing performing this procedure. We offer two sedation options that allow you to relax throughout your treatment.
Extractions: In the case of a failed root canal treatment, trauma, or other serious dental problem, gentle and safe tooth extraction may need to be performed. The straightforward procedure is performed using local anesthesia and sedation.
Schedule Your Restorative Treatment Today
Whether you require treatment for an advanced cavity, chipped tooth, or root canal infection, the doctors of Los Lunas Smiles have a restorative treatment option that can provide relief from oral discomfort. Our office offers weekly specials, and we welcome most dental insurance plans. To schedule your restorative treatment, call (505) 865-4341.