Extensive tooth loss can make simple tasks like eating and chewing difficult. Following the loss of an entire arch of teeth, you can be fitted with a natural-looking and comfortable denture that can restore oral function while leaving your cheeks looking fuller and more youthful. Patients who still have multiple healthy teeth remaining can have a custom partial denture fabricated to fit between their remaining teeth.
Our office offers an advanced solution to tooth loss: dental implants. Implant-retained prosthetics offer superior stability and other benefits that removable dentures do not afford. If you are interested in learning more about the benefits of receiving implants, one of our doctors can describe the treatment plan in detail.
Dentures Overview
Dentures consist of a row of false teeth that attach to a durable acrylic resin base. The prosthetics are custom made to match the color and shape of patients' individual smiles. If you are missing an entire arch of teeth, you can be fitted with a full denture that spans the upper or lower jaw.
To arrange an examination at Los Lunas Smiles Dentistry to talk about Dentures, Call at (505)-865-4341 Or Schedule An Appointment Online .
Full dentures can be removable or implant-retained. If you opt for a removable full denture, the prosthetic will attach to the surface of your gums through the use of a topical bonding agent. Full dentures can also attach directly to the jawbone through the use of multiple implants.
If you are missing most of your teeth but still retain multiple healthy teeth, you can be fitted a partial denture that fills in the gap in your smile. Removable partials are held in place via metal clasps that attach to your natural teeth. Like full dentures, partial dentures can be removable or implant-supported.
Dentures are made from durable materials, but they will not last forever. Removing your dentures at night and storing them in water can help you avoid gum tissue irritation and damaging your denture. Regular visits to our office for checkups can also add life to your prosthetic.
How are dentures made?
If you are having a removable full or partial denture made at our office, one of our doctors will ensure that you are in good oral health. Any gum disease treatments or tooth extractions will need to be completed before you can be fitted with a denture. Once you are in good oral health, an impression or mold of your mouth will be made and sent to a trusted laboratory. Our doctors will coordinate the fabrication of your denture to ensure that the prosthetic meets your oral health needs and aesthetic goals.
After a few weeks, the denture will arrive back at our office and your second visit will be scheduled. Our doctor will ensure that your denture is a good fit, and you will be given instructions on how to use and maintain your new prosthetic.
Implant-retained Dentures
Candidates for implants should have sufficient jawbone density to safely receive multiple implants. If you have suffered from bone atrophy, one of our doctors can coordinate bone graft surgery so you can gain candidacy for implant placement. Dental implant placement requires oral surgery at our dental practice. Our doctors are highly qualified to perform this procedure. One benefit of working with Los Lunas Smiles is that your implant treatment can be planned and performed right here in our office.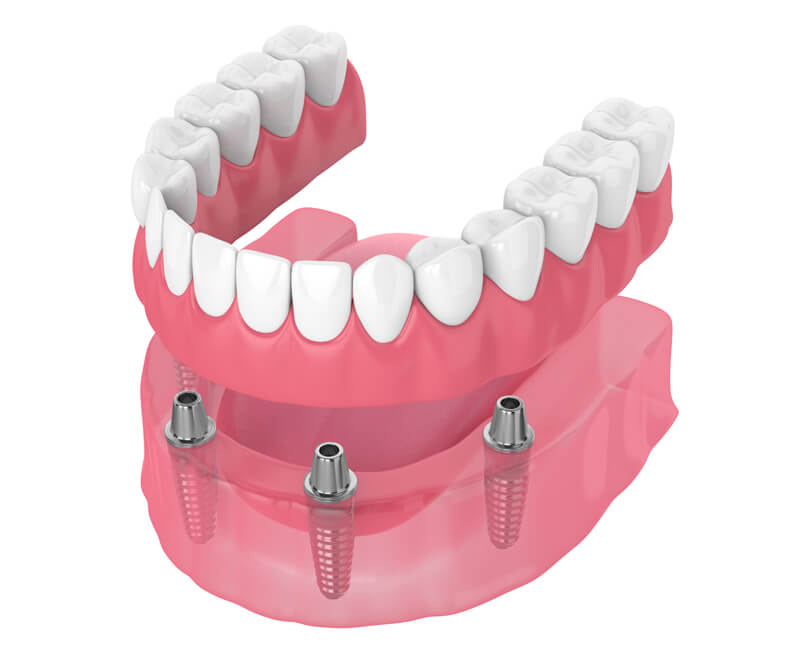 Our office offers sedation dentistry options so you can relax comfortably throughout your implant surgery. Once your implants are placed, you will require three to six months to allow the implant posts to fuse with surrounding jawbone tissue. At some point toward the end of your healing period, special metal attachments will be placed that allow the denture to snap on and off of your implants.
Following this step, your final restoration will be placed. With proper oral hygiene habits and regular visits to our office, you can enjoy your implants for the rest of your life.
Schedule Your Next Visit Today
Both removable and implant-retained dentures offer life-changing benefits. Tooth loss does not need to be a permanent setback. The doctors of Los Lunas Smiles are ready to restore missing teeth so you can smile with confidence. To schedule your denture consultation, call (505) 865-4341.