There are many reasons why one of our patients may need to be fitted with a custom crown. The prosthetic completely encases a damaged tooth in a protective cap. Crowns can be fabricated from different durable materials. One of the most popular options is made from ceramic that can be shade-matched to blend in with your natural teeth.
If your tooth has suffered significant damage following tooth decay, root canal therapy, or trauma, the doctors of Los Lunas Smiles can have you fitted with a custom crown that restores form and function to your smile. Crowns are also placed to support a traditional bridge.
Benefits of Dental Crowns
Invasive dental procedures or advanced decay can leave a tooth weakened and sensitive. By placing a crown over the tooth, one of our dentists can restore strength to your tooth and prevent the need for a tooth extraction.
Crowns are incredibly natural-looking. Your crown will be fabricated from a single block of ceramic that is colored-matched to blend in with your smile. If you opt for a porcelain crown, you will benefit from the natural reflective properties of porcelain that mimic the shine of enamel. Each crown is fabricated to match the natural contours of teeth. Once your crown has been placed, few people (if any) will be able to tell that your teeth underwent restorative work.
To arrange an examination at Los Lunas Smiles Dentistry to talk about Dental Crowns, Call at (505)-865-4341 Or Schedule An Appointment Online .
Dental crowns prevent the return of decay. Following extensive removal of decay or treatment for a root canal infection, your custom crown will place a protective barrier around the surface of your tooth, protecting it from bacteria and further decay.
Treatment Overview
Unless your crown is placed following an emergency treatment, your treatment will begin with a consultation. One of our doctors will explain the crown placement process in detail. Patients should understand that dental crowns require the removal of natural tooth structure, meaning that the treatment is irreversible. Once your candidacy has been established, your dental crown placement will begin.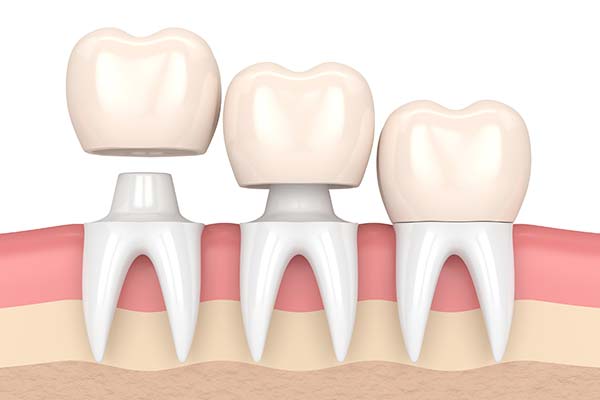 Crowns are typically placed through two visits to our office. During your first visit, your tooth will need to be prepared to create room for the prosthetic. The step requires that natural tooth structure is removed. First, one of our doctors will use local anesthesia to numb your tooth. Our office offers two sedation options that can help you relax throughout the treatment if needed.
Once you are comfortable, one of our doctors will prepare your tooth. A mold or impression will be made and sent to a trusted laboratory that will fabricate your cap. Before you leave, you will be fitted with a temporary restoration. After a few weeks, your custom restoration will arrive at our office. During your next visit, one of our doctors will ensure that the prosthetic is a perfect match before placing it using a strong cement that can last over 10 years.
Crowns should be cleaned and maintained through good oral hygiene habits and regular visits to our dental office. If your crown feels loose at any point, please call our office and we will schedule a visit to check the stability of your crown. Crowns should never be used to bite non-food items or to pry open packages.
Schedule Your Restorative Consultation Today
Crowns restore strength and structure to your tooth following injury or an invasive treatment. If you are interested in learning more about the benefits of crowns, call (505) 865-4341.