Dentures are one of the most common treatments for replacing multiple teeth. Like any appliance, dentures require a little TLC to keep them in tip-top shape. If your denture isn't fitting quite as well as it used to, it could be time to reline them. How often do dentures need to be relined? At Los Lunas Smiles, our team is here to shed some light on that topic.
What is Denture Relining and Why is it Necessary?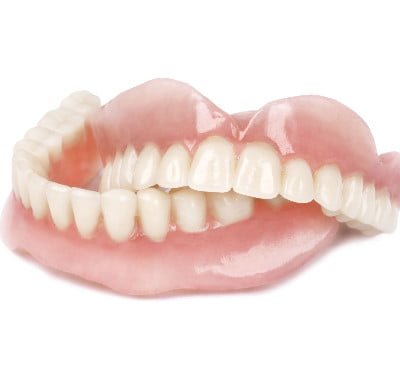 If you've been wearing dentures for a while, you know that the fit can change over time. But why does this happen? Bone atrophy is a byproduct of tooth loss. Once your teeth are removed, the supporting jawbone begins to slowly change over time. As a result, dentures that once fit you well may start slipping or shifting.
A denture reline involves adding material to your denture. This improves fit and comfort by filling in the space between your bone ridge and appliance.
How Often Should My Dentures be Relined?
The answer to this question will vary for every individual. But on average, you can expect to have a denture reline every year or two. If you've just recently been fitted for dentures, you may require several relines during the first few weeks as you settle into your new prosthesis. Simply stated, you should see your dentist for a reline anytime your denture feels loose.
Signs You Might Need a Denture Reline
An ill-fitting denture can cause a host of oral health issues. Here are a few warning signs that could indicate it's time for a reline:
You've developed areas of irritation on your gums.
You're having difficulty chewing your food due to slipping or shifting dentures.
It's been at least two years since your last reline.
You're experiencing prolonged periods of discomfort.
You've developed a fungal infection in the oral cavity.
Hard vs Soft Relines
When it comes to relining dentures, there are two primary methods: soft and hard relines. We'll explore both of these in the sections below.
Soft Reline
The most preferred option, soft denture relines can be performed chairside or completed in a dental laboratory. The denture is layered with a soft liquid polymer to add cushion and depth. This process can be completed relatively quickly, but it typically needs to be done more often than a hard reline. It typically lasts about one to two years.
Hard Reline
Like soft relines, hard relines can be completed in-office or in a lab. However, most dentists prefer to send hard relines out to a lab because the process is more involved. Instead of liquid polymer, a harder material is used, such as acrylic – which is more like the actual denture base itself. A hard reline usually lasts more than two years.
It's important to note that if your denture is sent out to a dental lab, you will be without your appliance for however long it takes to reline. However, a denture reline can give new life to your appliance and helps delay the need for a brand-new one.
Contact Our Practice to Learn More
Whether you're a long-time denture wearer or you just received your first set, relines are an important aspect of denture care. To learn more, or to schedule a denture reline at our Los Lunas practice, call us at 505-865-4341 or contact us online anytime.