Dentures have been around for a long time, and they're still one of the most popular teeth replacement options available. Even though these appliances are strong and durable, they won't last forever. On average, a set of dentures lasts about seven to 10 years.
Here, our team at Los Lunas Smiles explains how you can tell if your dentures need to be replaced. We'll also offer recommendations for keeping your appliance in excellent working condition.
Signs Your Dentures Need Replaced
Wondering if you need to replace your dentures? Here are some indications that it might be time: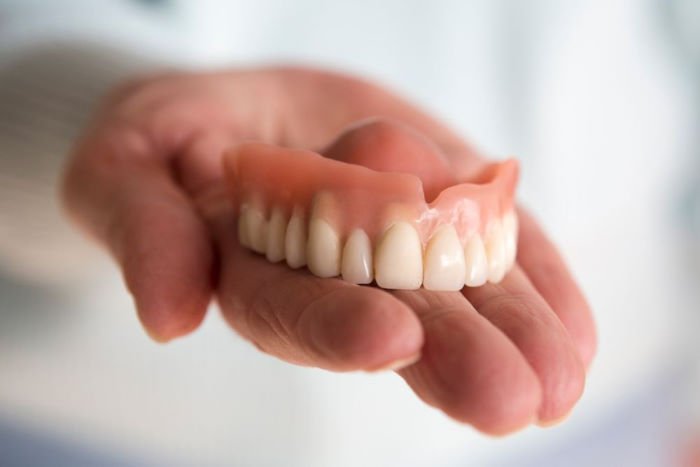 Your dentures no longer fit properly. After tooth loss, the bone ridge changes shape. This continues over time as bone density decreases. This means that eventually, your dentures won't fit as well as they used to.
Your dentures are broken. If your dentures are partially or completely broken, don't try to repair them yourself. This can lead to all kinds of issues, including painful TMJ problems.
You have sore or irritated gum tissue. If your dentures are shifting or slipping, they can wear sore spots on your gums. This is a warning sign that your dentures need to be relined or replaced.
Your dentures are visibly damaged. Sometimes dentures can chip or crack. If you notice these issues, bring them into our office right away.
You are having chronic pain. When dentures no longer fit right, it can have a negative impact on jaw alignment. This can lead to chronic headaches as well as neck, jaw, and facial nerve pain.
If you notice any of the issues mentioned above, schedule an appointment at Los Lunas Smiles right away. We can take a look at your denture and determine if it can be repaired. Furthermore, if your dentures are older than 10 years old, it's a good idea to come in for a checkup so we can ensure your appliance is working properly.
Preserving the Condition of Your Dentures
Proper maintenance will keep your dentures in good condition and reduce the risk of premature damage. Here are some general tips to help you care for your prosthesis:
Rinse your dentures after every meal. Food can become trapped underneath your dentures. To reduce damage and bacterial buildup, rinse your dentures after eating to remove debris and food particles.
Brush your gums and any remaining teeth every day. Even if you don't have any natural teeth remaining, it's still important to clean the inside of your mouth every day. Use a soft brush to clean the gums, cheeks, tongue, and palate.
Brush your dentures daily. Using a soft brush and denture cleanser, remove food and debris from your appliance. Be sure to focus on the areas that fit against your gums, especially if you use denture adhesive.
Soak your dentures. Anytime you remove your dentures, you must soak them in water or a denture cleanser. Otherwise, they may lose their shape. We recommend leaving your dentures out and soaking them when you sleep to give your soft tissues a break.
See your dentist regularly. If you wear dentures, you should see your dentist for routine exams. On average, dentures must be relined every couple of years to reduce shifting and slipping.
Contact Us for More Information
If you wear dentures, or are considering them as a teeth replacement option, it's important to know how to care for them. To learn more, schedule a visit at our practice. Contact Los Lunas Smiles online or give us a call at (505) 865-4341.